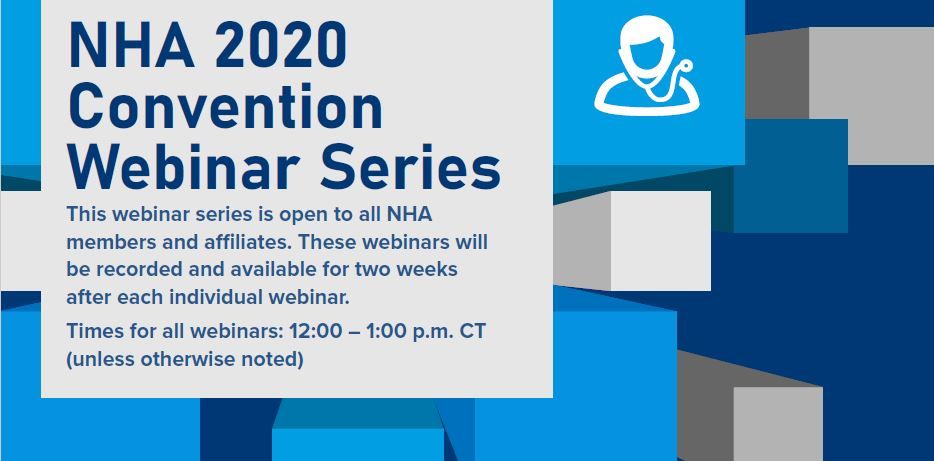 Starting August 4, NHA is hosting a series of weekly, one-hour webinars on timely topics that we hope you and your team will take advantage of. We've also priced these at a special rate of $49 each (per person). All webinars will be recorded and will be available online for up to two weeks after each webinar. Plus, many of these sessions will be available for CEUs.
This educational activity is jointly provided by AXIS Medical Education and the Nebraska Hospital Association Research & Educational Foundation.
These one-hour webinars will be held every Tuesday.
Sessions will be from 12:00 - 1:00 p.m. CT. (unless noted otherwise)
For questions or assistance with registration, please contact Heather Bullock at hbullock@nebraskahospitals.org.
_____________________________________________
August 4
Not Just a Hospital: Healthcare Design in Rural Communities
Register

August 11
Being Your Best During Your Organization's Worst Days: Crisis Management
Register

August 18
Nursing Malpractice Claims: Impacts and Opportunities
Register

August 25
Strategies for Managing Third Party Contracts
Register

September 1
Implementing a Culture of Excellence
Register
September 8
The Power of a Managed Service Provider (MSP) to help with Nurse Staffing Shortages
Register

September 15
Revenue Cycle: The little things that can make a BIG difference
Register

September 22
Labor and Employment Law Update: Latest Developments and Trends
Register

September 29
Chargemaster, Pricing, Transparency: What Does all this Mean?
Register

October 6
Master Planning for Healthcare: Secrets of a Successful Vision
Register

October 13
Captives - Gateway to Self-Funding
Register

October 20
Health Care Law Year in Review
Register

October 22 (Thursday)
Reducing Health Care Violence through an Environment of Care Community Policing Based Security Strategy
Register (Time for this webinar will be 9:00 - 10:00 a.m. CT)
---
Learning Objectives
Translate knowledge of operations and patients into design input tailored for a rural context
Qualify a project for USDA funding opportunities
Engage stakeholders at all levels to garner greater participation and to define criteria for success
Account for the multiple roles healthcare facilities play in rural communities
Discuss how to lead in a crisis as a healthcare leader
Outline best practices to prepare for reputation risk events
Examine how to effectively communicate to internal and external audiences, patients and families
List the top allegations made against nurses.
Be able to identify the most common contributing factors in nursing claims.
Plan how to implement strategies to prevent nursing-related injuries, enhance teamwork and communication, and improve your business performance.
Identify at least three potential problem areas in your facility's revenue cycle.
Construct a minimum of one new measurable metric specific to the potential problems you have identified for you hospital.
Summarize each step in the revenue cycle.
Explain how a positive culture helps lead to an organization of excellence.
Apply evidence based management techniques in creating a positive culture.
Analyze successful healthcare organizations that have implemented a culture first approach to patient care.
Review the current state of the employment market both nationally as well as in Nebraska.
Outline solutions hospitals can take to address the current staffing shortage.
Recommend how to best implement an MSP.
Explain the definitions and differences between Chargemaster, Pricing and Transparency charges.
Distinguish the similarities and differences between these concepts/functions.
Identify and understand current best practices associated with these concepts.
Discuss the latest labor and employment law developments and trends
Explore current trends in employment law.
Build an understanding of action options related to employment trends.
Review the process of optimizing negotiation contracts.
Outline strategies to increase total revenues.
Discuss how to define relevant metrics and associated accurate payment data/utilization.
Define the individual space requirements for each diagnostic modality.
Identify location and shielding requirements for the different modalities.
Plan for schedule and budget implications.
Review the concept of Captives.
Discuss the advantages of a Captive.
Explore how a Captive can help small to mid-sized rural hospitals fund their employee benefit plans.
Examine what's making headlines in Health Care Law in 2020.
Identify trends in regulatory enforcement
Review newly proposed (or finalized) rules
Identify workplace violence warning signs focusing on pre-incident indicators
Create workplace violence scenario-based training designed for the healthcare environment. 
Develop CPTED (Crime Prevention through Environmental Design) techniques, panic alarms, ID keys, passcodes, and cameras.
Discuss Active Shooter vs. Targeted Violence, Intimacy Effect, Spillover Effect. Predatory Incidents vs. Impulsive/reactive incidents.
Create upstanders from bystanders to help prevent violence.