Bio-Electronics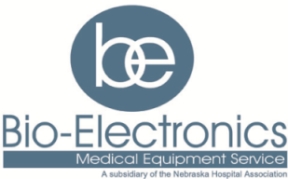 Bio-Electronics
, a wholly-owned subsidiary of the Nebraska Hospital Association, provides medical equipment service to hospitals and health care facilities in Nebraska, Colorado, Wyoming, Kansas, South Dakota and Iowa. The primary mission of Bio-Electronics is to provide maintenance and management support of medical equipment for health care providers. Since its establishment in 1976, Bio-Electronics has been a leader in its field by meeting the demand of cost-effective maintenance services in advanced medical modalities. Bio-Electronics' areas of expertise include radiology systems, laboratory equipment, physiological monitors, lasers, respiratory therapy and cardiac rehabilitation equipment. Bio-Electronics is governed by a board of directors comprised of Nebraska hospital administrators and other key personnel elected by the membership of the NHA.
---

NHA Services
NHA Services, Inc. is a wholly-owned subsidiary of the Nebraska Hospital Association. NHA Services was incorporated in 1992 in response to Association members' request for help in obtaining more reasonable rates on workers' compensation insurance. Organizations and vendors partnering with NHA Services provide cost-effective solutions for Nebraska hospitals' and health systems' business needs by providing essential goods and services. Hospitals save money and improve efficiencies when using NHA Services' partners. In insurance premium costs alone, Nebraska hospitals have saved millions of dollars.

The board of directors of NHA Services is composed of executives from participating hospitals and is designed in such a way as to allow it to serve members in a wide variety of roles. In designing its business ventures, NHA Services is guided by two precepts: (1) the ventures provide an advantage to the Nebraska Hospital Association members that they could not obtain individually, and (2) the ventures generate a flow of funds to NHA Services, which further benefits members by providing an additional source of funding for the Nebraska Hospital Association. NHA Services provides a number of services to Nebraska hospitals. For more information, contact Jon Borton, vice president, NHA Services, Inc., at (402) 742-8147 or jborton@nebraskahospitals.org. 
---
NHA Research and Educational Foundation

The mission of the NHA Research and Educational Foundation is to provide educational opportunities that enable NHA members to be up-to-date and responsive to health care challenges and reforms. The Foundation is committed to providing the highest-quality, cost-effective and readily accessible health care education. The goal of the Foundation is to assist you and your facility to meet the workforce and continuing education challenges of your facility, keep you informed about the latest issues and trends in the industry, and help you anticipate and prepare for the ever-changing health care industry.  The purpose of the Foundation is:
To provide quality onsite educational programs and a wide variety of other services such as web-based programs, webinars, training products and publications to assist health care providers in meeting state and federal regulations,
To maintain an excellent grasp on current health care issues and be adept at anticipating education needs.
To identify partners in education who offer the content, expertise and communication skills necessary to teach professional adults in an effective manner.
To offer scholarships designated for students interested in health care careers. These scholarships support the future leaders in their efforts to earn a high-quality education.
Click here to view the many educational resources offered. For more information, contact Jon Borton, vice president, NHA Services, Inc. via email or at (402) 742-8147.
The NHA Research & Educational Foundation is governed by a ten-member board of directors:
CHAIRMAN  
James Ulrich, ACHE, FHFMA
Chief Executive Officer
York General, York
VICE CHAIRMAN 
Marty Fattig, ACHE
Chief Executive Officer
Nemaha County Hospital, Auburn 
SECRETARY
Kevin Nokels
President
CHI Health Creighton University Medical Center - Bergan Mercy, Omaha 
TREASURER
Russ Gronewold
Vice President, Finance/Chief Financial Officer
Bryan Health, Lincoln  

DIRECTORS
Jean Henes, MSN, RN Director of Nursing & Patient Care Services
Avera Creighton Hospital, Creighton, NE
Melissa Kelly, CPA
Chief Executive Officer
Pender Community Hospital, Pender  
Danielle Proskocil
Human Resource Director
Valley County Health System, Ord, NE 
Jan Wright
HR Staff Development
Great Plains Health, North Platte 
Dana Steiner, RN, MBA
Executive Director of Patient Services 
Lexington Regional Health Center, Lexington
EX-OFFICIO  
Laura J. Redoutey, FACHE President
Nebraska Hospital Association, Lincoln