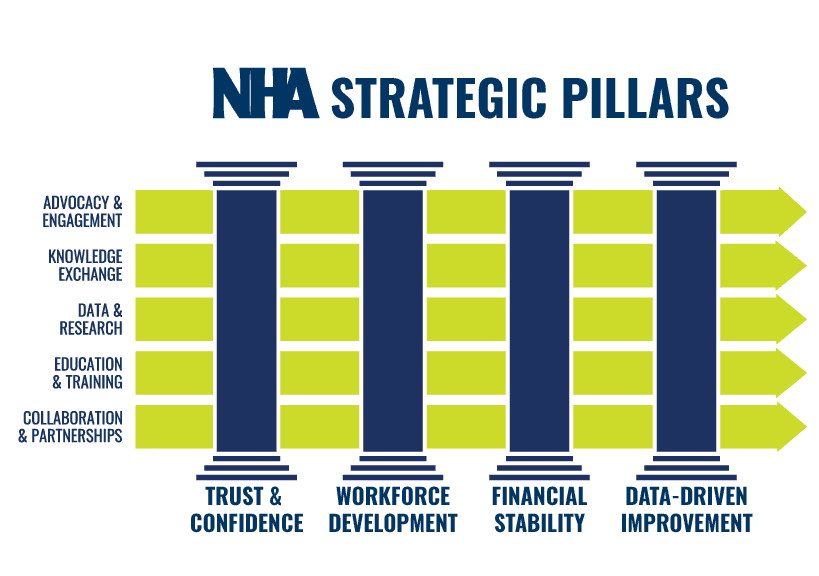 NHA Strategic Plan 2023-2025
Nebraska hospitals face a myriad of challenges we haven't seen in generations. Recruitment and retention to maintain a strong workforce. Financial pressures as a result of record high inflation combined with low reimbursement rates. Increasing barriers to transitioning patients to post-acute settings.
During the summer of 2022, the NHA Board of Directors and NHA Senior Leadership sought input from member hospitals to create a three-year strategic plan for the association. As part of this effort, we discussed these challenges as well as many other issues facing our members. Behavioral health, payer challenges, and administrative burdens...to name a few.
More importantly, we discussed how the NHA can best serve our members and maximize our strengths for the good of the association as a whole. We revised our four strategic pillars, adjusted our mission and vision statements, and laid out a plan of how our strengths will be integral in supporting these pillars.
The next three years will be important in charting the course for not only the NHA but its 92 member hospitals. We are Nebraska Hospitals and we're looking forward to being your trusted source and influential advocate for years to come.
MISSION
To serve Nebraska hospitals by being the most trusted voice and influential advocate in health care and a driver of hospital quality and safety improvement.
VISION
To improve the health and well-being of all Nebraskans by supporting and unifying Nebraska hospitals.