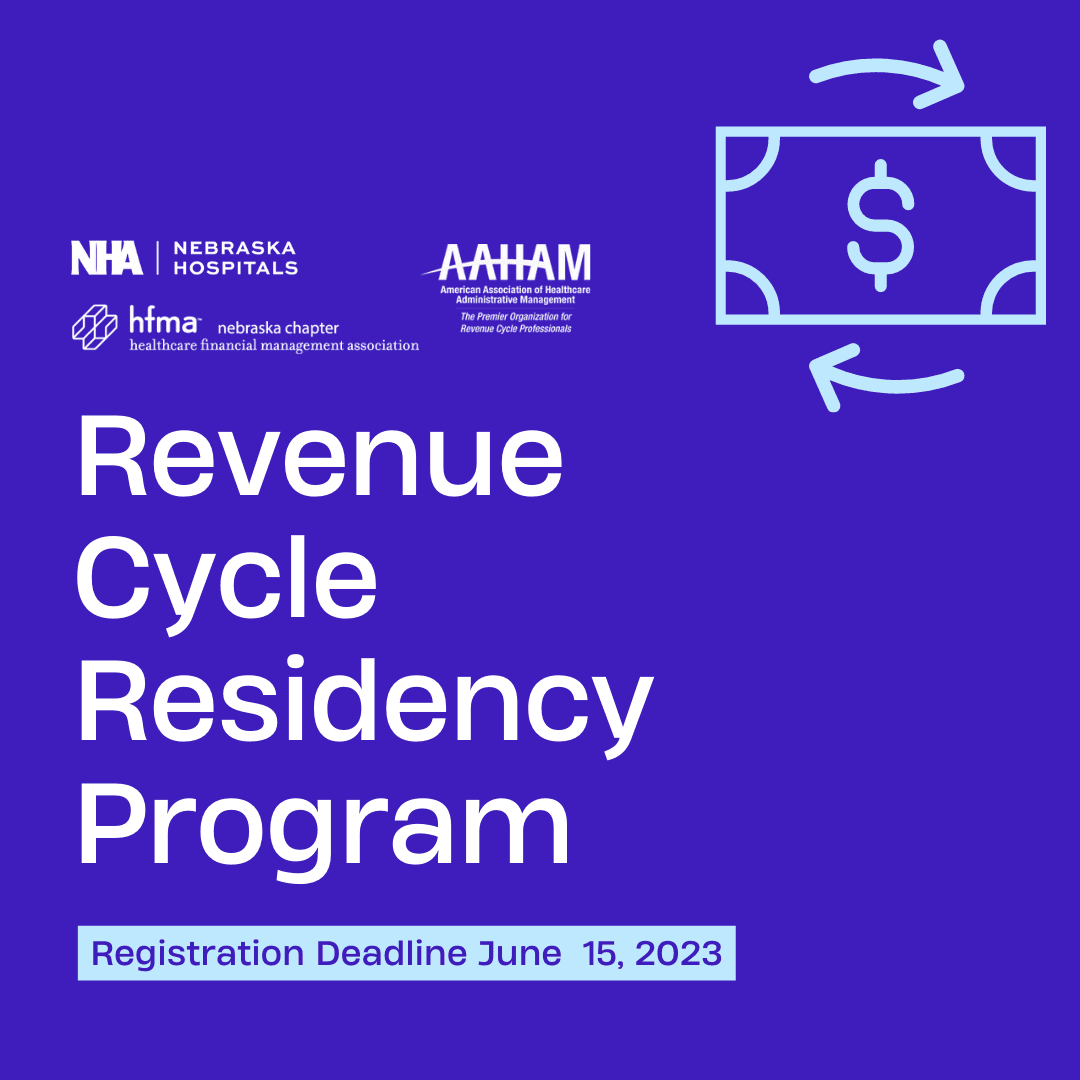 ---
Registration Deadline - June 15, 2023.
---
2023 NHA Revenue Cycle Residency
The Revenue Cycle Residency Program was developed as a result of the vision and support of the Nebraska Hospital Association, Nebraska Chapter of the Healthcare Financial Management Association (HFMA), and the Nebraska Chapter of the American Association of Healthcare Administrative Management (AAHAM). The Revenue Cycle Residency Program is designed to provide the framework and educational resources to help build collaboration, succession planning, support and dialogue for hospital revenue cycle teams throughout the state of Nebraska.
This program is intended to serve as an introductory residency for newer revenue cycle leaders or those interested in working in hospital revenue cycle. The objective of this program is to provide a collaborative learning environment focused on mentoring and networking for hospital revenue cycle personnel to develop empowered statewide leaders.
Questions? Contact Mike Feagler, Vice President of Finance, mfeagler@nebraskahospitals.org.
---
---
Program Objectives
At the end of this program, participants will be able to:
• Articulate the definition of revenue cycle management and explain how it fits into the bigger picture of rural hospitals,
• Appreciate and enhance the patient experience,
• Understand the denials management process to reduce denials, simplify collections and improve financial performance,
• Comprehend new regulations and compliance,
• Increase interdepartmental cooperation,
• Heighten staff confidence and work satisfaction,
• Measure and assess revenue cycle staff proficiency,
• Recognize staff knowledge and expertise,
• Decrease turnover,
• Describe best practices related to determining and driving revenue cycle improvement in your hospital,
• Articulate population health promotion and continuum of care activities needed in your hospital, to adapt to the changing
health care reimbursement structure.
---
---