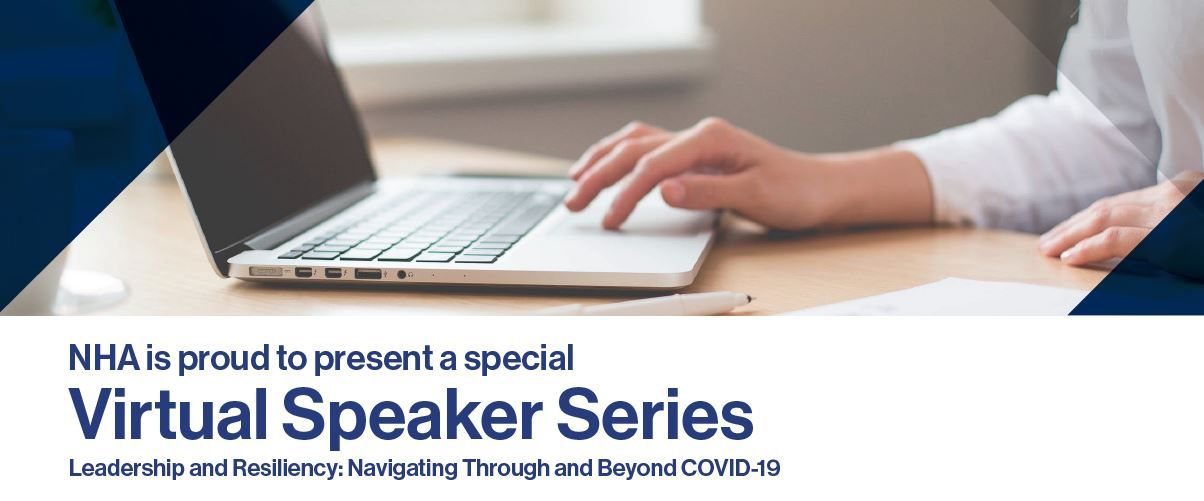 NHA, in collaboration with 30 state hospital associations, is offering this dynamic virtual speaker series to our members and affiliates at a very special rate of only $295 for all six webinars (or $59 each when registering for the webinars individually). These sessions will be conducted using ZOOM and recordings will be made available for a limited time.
These speakers are all nationally recognized experts in their respective fields and will provide valuable perspectives on leadership in the wake of COVID-19. Using the ZOOM meeting platform, all sessions will be recorded and will be available for later playback. In addition, these sessions will be available for continuing education credits (Nursing - ANCC and Executive - ACHE Qualified).
These one-hour webinars will be held every other Thursday,
from June 25 - September 3.

Sessions will be from 12:00 - 1:00 p.m. CT.
Click here to register for ALL sessions in the series.
_____________________________________________
June 25 | Register Now
Bite Size Coping During Times of Uncertainty

July 9 | Register Now
Update on Coronavirus: What's Next and How to Plan

July 23 | Register Now
The Post-COVID-19 Healthcare Landscape: Implications for Strategy

August 6 | Register Now
How Hospitals and Health Systems Can Lead a "Quiet Revolution" for Healing During a Pandemic

August 20 | Register Now
Win When: The 21st Century Challenges of Health Equity

September 3 | Register Now
The New Health Care Ecosystem
For questions or assistance with registration, please contact Heather Bullock at hbullock@nebraskahospitals.org.