2023 NHA-NeRHA Spring Forum and Rural Health Clinic Conference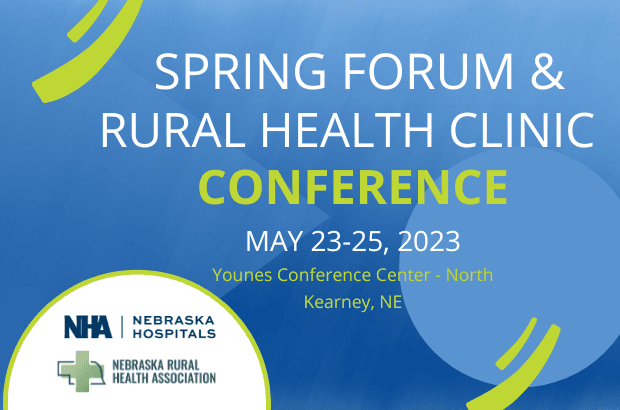 The Nebraska Hospital Association is again teaming up with the Nebraska Rural Health Association to host the 2023 NHA-NeRHA Spring Forum and Rural Health Clinic Conference. This event will showcase nationally known speakers and presenters on a variety of topics, with a focus on the issues facing rural hospitals and clinics in Nebraska.
Copyright - Michelle Rathman with Impact! Communications, Inc.

John Fistner and Shelly Soupir with AblePay

Patti Artley with Medical Solutions

Chris Pusey with inReach Health

April Gaines with Crete Area Medical Center
Beverly Nelson with Boone County Medical Clinic
Bill Calhoun with Kearney Regional Medical Center
Dr. Daniel Defreece with CHI Health St. Mary's
Shelly Graham with Memorial Hospital
Amber Kavan with the Nebraska Hospital Association

Nick Rodriguez with HHS
Copyright DHHS

Nathan Baugh with the National Association of Rural Health Clinics (NARHC)

Julianne Kipple and Kirk Delperdang with Lutz
Sachi Verma with the Nebraska Hospital Association

Kirk Swartzbaugh & Bill Rezac with USI

Dr. Cate Jones-Hazledine with Western Nebraska Behavioral Health, P.C.

Brent Barnacle with Jackson Physician Search

Todd Mekelburg & Dena Beck with the Nebraska Community Foundation
Rita Luongo with Thayer County Health Services

Carrie Cochran-McClain with the National Rural Health Association (NRHA)

Christina Campos with Guadalupe County Hospital in New Mexico

Kristi Martinsen with HRSA

Carrie Bova with Wintergreen
Greg Wolf with Lilypad

Patty Harper with InQuiseek

Patty Harper with InQuiseek

Patty Harper with InQuiseek

Wendy Sablatura with The Compliance Team

Greg Wolf with Lilypad
Carrie Bova with Wintergreen
For lodging accommodations while in Kearney, there are three hotel properties on the Younes campus offering group rates for this conference. Reservations need to be made by May 2, 2023 to receive the discounted rates.
Contact any of the following properties and mention the NHA-NeRHA Spring Forum to make your reservation:

 - $149.95 + tax/night   Crowne Plaza | (308) 238-7000
   (connected to the conference center)  

 - $139.95 + tax/night   Fairfield Inn & Suites | (308) 236-4200

 - $139.95 + tax/night   Hampton Inn & Suites | (308) 234-3400
Event Sponsor
2023 Presenting Sponsor
Platinum Sponsors
Gold Sponsor
Silver Sponsors
Bronze Sponsors
Event Sponsors
Additional Exhibitors (not listed above)
Aledade, Inc.
Constellation Energy
The Core Group
Cybersecurity & Infrastructure Security Agency (CISA)
Docs Who Care
FirstNet, Built with AT&T
The Hauge Group
Impact Healthcare Solutions
Konica Minolta Healthcare
Mindray
Nebraska Coalition for Patient Safety
Nebraska Public Transit
Nebraska Stroke Association
NHA Services, Inc.
OrthoSource DME
Prime Time Healthcare
Professional Choice Recovery
Revenue Enterprises
See the Trainer Sports Medicine Stores
SUNRx
Trane
UNMC College of Public Health
UNMC Regional Pathology Services