We Care We Vote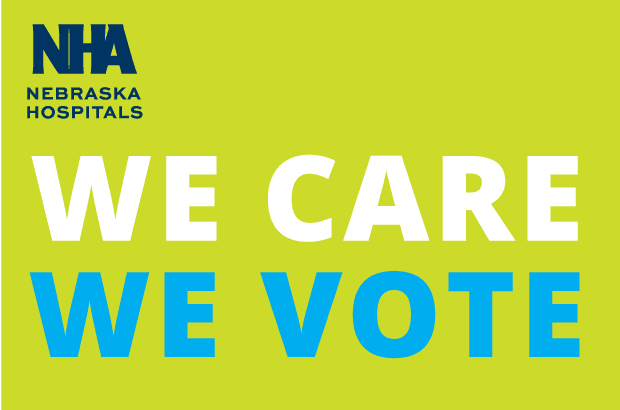 Raising Awareness of Voting's Importance Among Nebraska's Health Care Employees
The 2022 elections are important … and it's equally important that health care employees' voices are heard through voting!
The AHA's "We Care, We Vote" website, wecarewevote.aha.org, provides sample materials hospitals can use, including get-out-the-vote email messages and social media posts to raise awareness of the importance of voting. 
Click here for Nebraska voting information


Listed below are suggested activities to encourage voter participation in the 2022 mid-term election. Coordinate your efforts with your organization's leadership.
Hold a voter registration drive at your hospital. Plan drives around Oct. 8, the 30-day pre-election countdown or the week of Sept. 26-30, which is "Employer Voter Registration Week." Also, post links on your employee intranet to non-partisan voter registration sites, such as www.vote.org and www.nass.org/can-I-vote.
Publish an article in your employee newsletter or blog from your CEO encouraging employees to register to vote and vote on Nov. 8.
Employ recorded messages and emails from your CEO encouraging employees to register to vote and vote on Election Day.
Use your hospital's social media channels, like Facebook, LinkedIn and Twitter, to encourage your employees and community to register and vote.
Communicate to employees information about local voting. Consider posting voting registration deadlines on your intranet site.