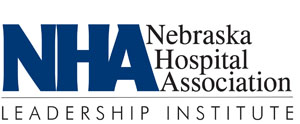 Enrollment is now closed. 

NHA Leadership Institute 2018 Class XV
---
The NHA Leadership Institute is an initiative that is made of up a comprehensive curriculum that combines core leadership competency working sessions and multiple layers of applied practice in health care.
Coursework focuses on the unique challenges and organizational management techniques facing hospitals. The Institute is geared toward providing middle management and up-and-coming leaders within your hospital with the necessary skills to become exceptional leaders and puts them on the path to senior management positions. It is vital for CEOs to develop the leadership pipeline to ensure effective succession planning while enhancing employees' contributions to the organization.
Each year, approximately 40 health care professionals from across Nebraska come together for a 10-month program designed to instruct, inspire and invigorate. Participants in the NHA Leadership Institute improve their leadership skills and enhance their effectiveness in the health care field while preserving the care and compassion critical to quality health care delivery. Participants also establish peer-to-peer connections and lifelong bonds with classmates and faculty.
The Nebraska Hospital Association Leadership Institute's mission is to advance the effectiveness of hospitals by providing a quality environment for professional development and support for health care leaders. Participants have expert faculty to guide them through the program. Knowledgeable instructors from Bellevue University are ready to steer participants toward professional success and engage them on the pressing issues hospitals encounter. These experts are drawn from diverse departments of the University including management, human services, leadership development, business administration and health care administration.

Questions? Call Kim Larson at 402-742-8143 or email klarson@nebraskahospitals.org
---

---
Testimonials from Class XIV 2017
 

A great learning experience that takes you beyond formal on-the-job knowledge and skills, and provides you with the tools to be a more effective leader with your team.
Well worth it. I have seen previous participants who don't follow through or live it.  So if you take the class, please keep it in your soul.
This is an excellent opportunity to develop your professional leadership skills, to network with other

health care

professionals, and to learn how to use your strengths to achieve your goals.
We learned something in every session, even if you have been in the leadership position for many years.  All great information and techniques for leadership.
The topics are interesting and the presenters really interesting. The presenters really make you think about things in different ways.
A great tool to improve yourself as a leader and to give you a better understanding of what it takes to be a successful manager of people.
I think the Leadership Institute is a good asset to have.  It opened my eyes to the potential that I could have and it opened my eyes to the differences in others that make up a team.
The Leadership Institute is a great program to go through.  It gets you out of your comfort zone and you learn effective ways to handle different situations.

 
---
The Results
- Creates an influential and powerful team
- Provides skills needed for creative and innovative problem solving
- Develops the participant's ability to work with diverse clientele
- Fosters motivation for continuous learning
- Heightens visibility of leadership positions/styles
- Builds a strong network of colleagues from Nebraska hospitals
- Enhances participant's career both personally and professionally
---
Program Benefits for the Hospital
- Improved recruiting and retention
- Increased employee motivation
- Greater team building with reduced internal conflict
- Improved return on staff investment
- Enhanced employee performance
---
Program Benefits for the Participant
- Improved leadership skills
- Professional growth
- Colleague networking and support