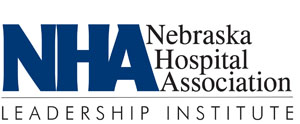 The NHA Leadership Institute is an initiative that is made of up a comprehensive curriculum that combines core leadership competency working sessions and multiple layers of applied practice in health care. Coursework focuses on the unique challenges and organizational management techniques facing hospitals. The Institute is geared toward providing middle management and up-and-coming leaders within your hospital with the necessary skills to become exceptional leaders and puts them on the path to senior management positions. It is vital for CEOs to develop the leadership pipeline to ensure effective succession planning while enhancing employees' contributions to the organization. Each year, approximately 30 health care professionals from across Nebraska come together for a 10-month program designed to instruct, inspire and invigorate. Participants in the NHA Leadership Institute improve their leadership skills and enhance their effectiveness in the health care field while preserving the care and compassion critical to quality health care delivery. Participants also establish peer-to-peer connections and lifelong bonds with classmates and faculty. The Nebraska Hospital Association Leadership Institute's mission is to advance the effectiveness of hospitals by providing a quality environment for professional development and support for health care leaders. Participants have expert faculty to guide them through the program. Knowledgeable instructors from Bellevue University are ready to steer participants toward professional success and engage them on the pressing issues hospitals encounter. These experts are drawn from diverse departments of the University including management, human services, leadership development, business administration and health care administration.

The Class XIV Leadership Institute is at capacity and is now closed for enrollment.
---

---
Testimonials from Class XIII 2016
An amazing experience! Gives you solid skills and advice for handling all sorts of situations.
This venue is a great way to learn leadership skills and to bring out ones you didn't know you had. Also on how to deal with different personalities to help accomplish certain goals.
The benefits outweigh the time away from work. The networking is invaluable.
It was well worth the time. I learned and grew so much in my position because of the Leadership Institute (LI).
It's a good way to get to know people from other hospitals and other areas in the leadership role.
The Leadership Institute is a great place to network and meet other people in your same position at another CAH. If you are interested in making yourself better, the LI can help.
Enjoyable overall experience. Thought provoking content and pertinent information that helped me to be more introspective. Engaging staff from Bellevue University who helped provide great experiences, knowledge and insight into how to transform yourself into a transformational leader.
This is an excellent and exciting opportunity for leadership growth and development.
The NHA Leadership Institute was a worthwhile experience and a big commitment, of which, I would do again if given the opportunity.
Great experience, good networking. Overall great experience.
Great opportunity to learn how to keep your staff engaged and learn how to help them grow.
It is a great opportunity to help yourself grow as a leader and a professional.
The LI did not disappoint. The sessions were engaging and I was able to take the information back to our hospital and apply it to my position and also in my personal life. I also was able to educate and use the information with other staff. Truly a wonderful experience I would highly recommend!
Attend if you have the opportunity! I am fortunate that my employer provided me with the time and resources to better myself through Leadership Institute. I hope to be a valued leader within my organization for years to come.
This course was very helpful in teaching leadership skills. It also gave me many ideas I could bring back to my facility to use to better my department.
It is a great learning experience if you are put in a leadership position. Even if you are not, it's a great way to learn about other people and how to relate to them. 
---
The Results
- Creates an influential and powerful team
- Provides skills needed for creative and innovative problem solving
- Develops the participant's ability to work with diverse clientele
- Fosters motivation for continuous learning
- Heightens visibility of leadership positions/styles
- Builds a strong network of colleagues from Nebraska hospitals
- Enhances participant's career both personally and professionally
---
Program Benefits for the Hospital
- Improved recruiting and retention
- Increased employee motivation
- Greater team building with reduced internal conflict
- Improved return on staff investment
- Enhanced employee performance
---
Program Benefits for the Participant
- Improved leadership skills
- Professional growth
- Colleague networking and support