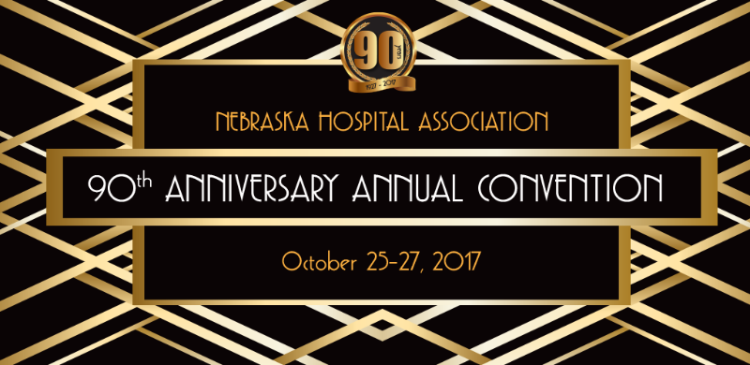 Embassy Suites Omaha-La Vista Hotel & Conference Center
La Vista, NE
The NHA is proud to celebrate its 90th Anniversary this year! The NHA Annual Convention is host to Nebraska's largest statewide health care event, providing three days of one-on-one networking opportunities with Nebraska health care decision makers: CEOs, CFOs, COO, CNOs, human resource officers, purchasing, marketing, IT and safety/quality managers and many others. You will not want to miss out on this exciting event!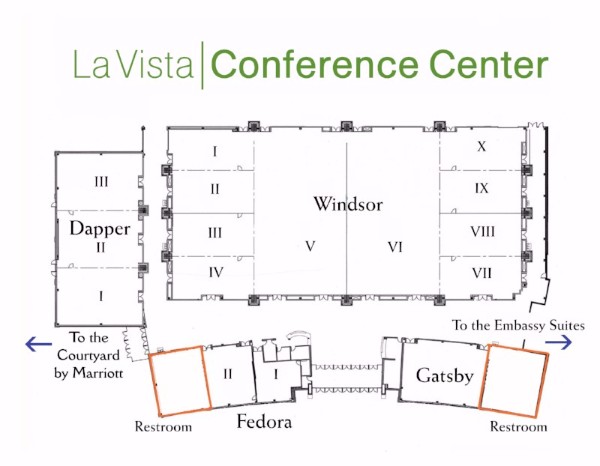 ---
Download the NHA Convention App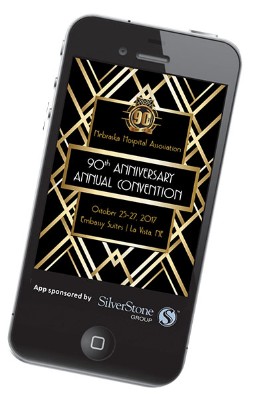 There are 3 ways to download the NHA Convention App to your mobile device:
1. Download at tripbuilder.com/nha2017 (Auto detect).
2. Download from The App Store (Apple products).
3. Download from The Play Store (Android products). 
**When prompted, enter your email address and then create your own password.
App search keywords:
- Nebraska Hospital Association
- NHA
- NHA Convention 2017
- NHACONV17
Questions regarding the event, please contact: 
Heather Bullock, Member Services & Events Manager
(402) 742-8148 
hbullock@nebraskahospitals.org
---

NHA Sessions
Wednesday, October 25
9:00 – 10:00 a.m. Opening Keynote Session
Modern Medicine's Transparency Revolution - Dr. Marty Makary
10:30 a.m. – 12:00 p.m. Breakout Sessions 1, 2 & 3
Session 1: Making an Impact: Care Transitions
Session 2: Regulatory Year in Review for the C-Suite 
Session 3: IT Shared Services Model: What Is It and How Does It Work? 
12:00 – 1:15 p.m. Networking Lunch
12:00 – 1:15 p.m. Women's Leadership Luncheon
What Women Can Do - Katie Zulkoski & Michelle Weber - Zulkoski Weber, LLC
1:30 – 3:00 p.m. Breakout Sessions 4, 5 & 6
Session 4: Creative Solutions to Challenging Access Issues: The State of Telehealth in Our Region
Session 5: Making Sense of Patient Safety and Just Culture - Pt 1
Session 6: Scary Stuff You Need to Know About the Internet of Things (IoT)

3:15 – 4:45 p.m. Breakout Sessions 7, 8 & 9 
Session 7: Making Sense of Patient Safety and Just Culture - Pt 2 
Session 8: They Tried to Make Me Go to Rehab, But I Said No, No, No. How to "Rehab" Problem Employees with Effective Performance Improvement Plans
Session 9: Social Determinants of Health: Life is Messy, But I Can't Afford to Clean It Up
5:30 – 9:00 p.m. 90th Anniversary Awards Banquet 
Thursday, October 26
9:00 – 10:00 a.m. Keynote Session 2
Advocating for the Patient: Using My Story to Improve Patient Safety - Regina Holliday
10:15 – 11:45 a.m. Breakout Sessions 10 & 11 
Session 10: Reversing the Downward Spiral 
Session 11: Celestial Seasonings: Reading the Tea Leaves of the Trump Administration's Compliance Initiatives
11:30 a.m. – 1:00 p.m. Trade Show & Lunch
1:00 – 2:30 p.m. Breakout Sessions 12 & 13
Session 12: An Influence Strategy for Changing Patient Behavior 
Session 13: Only You Can Prevent...HIPAA Breaches! An Update from the World of HIPAA Enforcement
3:00 – 4:30 p.m. General Session
Get in the Game: You Can't Win If You Don't Play - Pete Smith
4:30 – 6:00 p.m. Trade Show Sponsors' Social
9:00 – 10:30 p.m. NHA Political Action Committee Social
Friday, October 27
8:00 – 9:00 a.m. Annual Business Meeting (open to NHA member hospital staff only)
9:15 – 10:15 a.m. Open Dialogue Sessions (open to NHA member hospital staff only)
CEO open dialogue session
HR open dialogue session
10:30 – 11:30 a.m. Closing Keynote Session
The Buried Life: Six Steps to Crossing Anything Off Your Bucket List - Ben Nemtin
12:00 – 1:30 p.m. 38th Annual The Caring Kind Awards Luncheon
---
NHA Annual Convention Trade Show
The NHA Annual Convention Trade Show is Thursday, October 26. For maximized exposure and networking, a Sponsors' Social is held during the Trade Show. 
This is your BEST opportunity to meet health care executives from across Nebraska at one exciting event! See the sponsorship opportunities available to you in order to meet your marketing goals and budget.
Get your company noticed! There are many ways to get to network with hundreds of health care professionals through a variety of sponsorship packages. Check it out!
Platinum Sponsor
---
Silver Sponsors
---
Bronze Sponsors
Additional Convention Sponsors
Avera eCARE
Cerner
CMBA Architects
ConvergeOne
DTB Systems, Inc.  
Five Nines 
Good Samaritan Society Home Care of Nebraska
Great Plains Communications
Ingenious Med
Intellicom 
ITPAC Consulting, LLC
Holland Basham Architects
MyVitalz
Nebraska MEDS Coalition
Nebraska Methodist College
Nebraska Methodist Hospital 
Nebraska Medicine 
Nebraska Nurses Association
Nebraska Total Care
Private Practice Associates 
Revenue Enterprises, LLC
Schemmer
SilverStone Group 
Spectrum Enterprise
Victualic