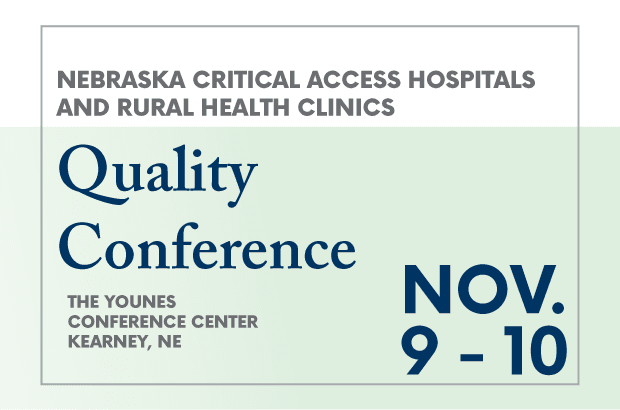 Welcome to the 2023 Nebraska CAH/RHC Conference on Quality
This program has been designed to meet the educational needs of health care professionals including hospital and clinic quality and nursing leaders, pharmacists, CEOs, governing board members and providers. This program will focus on national and state best practices and create intentional thought around the role of CAH Quality in the future of Nebraska healthcare.
The conference will be held at the Younes Conference Center-South in Kearney, NE on November 9/10, with a pre-conference session on November 8.
The optional add-ons for November 8 are:
8:00a-12:00p MCIRN Process Precept: Need to Know Skills Update presented by Dana Steiner, BSN, MBA, CPHQ & Amber Kavan, BSN, RN, CPHQ.
1:00p-4:30p Developing Strong Action Plans to Improve Patient Safety Using the Concepts of Just Culture, Human Factors and System Thinking presented by Gail Brondum, CNE, CPHQ, Emily Barr, OTD, MBA, OTR/L, BCG, and Carla Snyder, MHA, MT(ASPC)SBB, CPHQ.
Information on continuing education credits can be found in the program below.
---